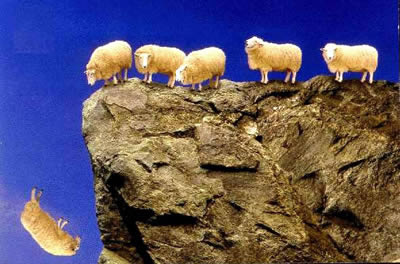 I received a question on Facebook about the skills needed to live an amazing life:
"What are those tools and where can I find them? "
We have found 4 areas that lead to living an amazing life.
1 Adaptability- Once you reconnect with your ability to adapt you no longer need the herd. You lead the herd…if you choose to.
The problem is that so many people have been stuck in such deep ruts that they see no way to do anything differently. They have lost he ability to think independently. Each day they wait from someone to tell them what to do and how to do it. The result is a human heard of sheep that dare not stray from their rut.
I see them every day and they wear their excuses as a badge of honor. They had a rough childhood…they are ADD… they are clinically depressed…they and the survivor of a trauma…they were abused…they are addicted…and so on. They have made a problem part of their identity.
Once they have this excuse they make up stories about how this excuse keeps them from doing things that are hard. They begin living a reactive lifestyle where they don't really think very much but they react to what is happening around them.
In essence they become a barnacle. A barnacle is an interesting creature. It looks for a place to live and after it attached to something it then digests it's brain because it has no further need for it. Then it lives out it's life in that one spot doing the same thing every day.
When someone loses their ability to adapt they start looking for safety and build a little wall around their life. They become a barnacle who stays where they are. All is well until they have to confront a problem that forces them to use their brain. Since they no longer can think they just react emotionally. This can be anger, violence, depression or even shopping..
This reaction without thought most times makes the problem even worse since they are now out of control. What is even worse is that they tend to drag everyone within reach down with them.
Yes this all sounds pretty bad and I am sure we can all think of a time in our lives where we did this or we know someone who had done this.
So what is the answer?
Reconnect to the adaptive part of your brain. … Sounds simple huh?
This does not mean to never react or never have emotions. It mean that you have a balanced mind that can adapt and react to situations as they arise. You have to retrain your brain to get past the emotional wall that has you trapped, Kim and I have created a method to do just that. It is simple to learn in just a few hours and is a lifetime tool.
Having just this one tool will change your life forever.
Once you reconnect with your ability to adapt you no longer need the herd. You lead the herd…if you choose to.
We will be teaching it at the Total Life Transformation Seminar in Atlanta this November.
http://www.essential-skills.com/seminars/total-life-transformation-seminar/
I will follow this with the other three areas that lead to an amazing life!