Chapter 1 Chapter 2 Chapter 3 Chapter 4 Chapter 5 Chapter 6 Chapter 7 Chapter 8 Wrap-up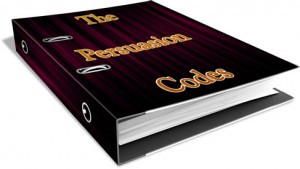 Welcome to your Persuasion Codes free introduction.
Secrets of Vocal Persuasion
In just 10 Minutes a day you can start down the road to having the influence you have always dreamed about. We will send you a reminder each day to check in and watch your 10 minute lesson. We recommend one per day but you can of course skip ahead if you need an extra challenge.
Make sure you read each email you get from us. One of them has a special discount coupon of 25% off of any product we offer. If you have any questions feel free to email us at tom.vizzini@gmail.com
Get the other 9 lessons
-
Exercise
Using Emotion When
You Speak
Let's start by practicing using emotions when you
speak. It is amazing in one sentence or short
story how many emotions you can flow through
leading others with you.
Say these sentences with emphasis on the word in
quotation marks, really letting the feeling of the
word come through in your voice. If the word
is not an emotion then make it sound like what it means.
Practice Sentences
Last night we went to this"wonderful" restaurant.
This is "amazing".
What do you do to "relax"?
The ocean is "huge".
Time goes so "slowly"
sometimes.
Think of 5 of your own examples