Money Magnet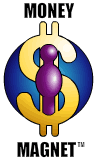 "Since we did the money magnet thing a month ago ( or about a month ago) several things have happened.
First a kick ass business  opportunity just dropped into my lap.
The next thing that happened was that I went to check my bank account and was only expecting to find about $740.00 and the  slip showed $46,345.12!!!  A claim that I had been fighting for 5 years finally paid off.
Then also I got an $800.00 a month raise!"
Tim S.
What is the Money Magnet?
The Money Magnet is an easy process used to manifest things in your life that you want and desire.  This simple process opens up your conscious and unconscious mind the SAME way that people who appear to get everything they want do.
After years of watching people effortlessly get everything they want we have
designed a process that exactly matches how these people think, believe and feel.
You have noticed these people.  They have what they want.  Their lives are
fulfilled.  All they have to do is point themselves in a direction and
they seem to be able to accomplish anything.
This is not an accident. It is the way that they look at the world.
Is the Money Magnet just for money?  No! The Money Magnet is for drawing
anything you want into your life.  By changing your beliefs, states and energy you can begin to have the things in your life you've only dreamed were possible.
Here is what is included:
The one-hour Money Magnet videotape.

Not only does this offer step by step explanations of the process, but it has a demonstration of us leading someone through the process.


A Money Magnet workbook

leading you through the process.  So when you are thinking, "Now, what's the next step?", you can just flip through the workbook instead of looking through the entire tape.  The workbook will also include exercises and much more to guide you to get what you want.

All we ask is that you use the process with an open mind and aplayful attitude.